AUSTRALIAN WOMEN'S WEEKLY SHOWBAG | ADELAIDE SHOW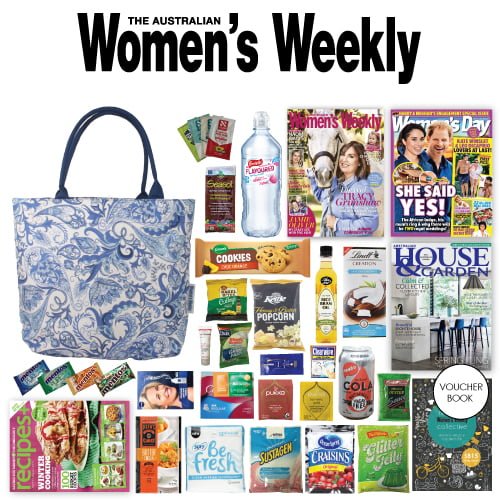 Save
Save
Brought to you by Australia's most iconic woman's magazine; The Australian Women's Weekly Showbag is one of our longest running and most popular showbags. You get 4 of the best women's mags alongside a selection of food, household and beauty samples, the AWW Showbag is the best value at the show.
Showbag Contents:
Australian Women's Weekly Tote Bag
Australian Women's Weekly (Current Issue)
Recipes + (Current Issue)
House & Garden (Current Issue)
Woman's Day (Current Issue)
NIVEA 4 in 1 Firming Body Oil
SOFY Be Fresh
Nivea Cellular Pearls Serum
Galderama Nutraplus Barrier Hand Cream 10ml
Natralus Sachet Beauty Pack
Ocean Spray Craisins
Clearwipes 10 Pack
Frantelle Spring Water with a Hint of Berry Essence 750ml
Nexba Sugar Free Soft Drink
Lindt Creation Luscious Coconut Block 100g
Aeroplane Glitter Jelly 85g Pack
Green's Choc Orange Cookies 200g
Kettle Popcorn Honey & Butter 25g
Clorox Magic Eraser
Seasol 45ml sachet
Berocca Performance Single Tablet
Abe's Bagel Crisps 15g
McCormick Foods Keen's Recipe Bases
Alpha One Rice Bran Oil 100ml
Sustagen Hospital Formula Strawberry 60g
Pukka Turmeric Tea Bag
Pukka Vanilla Chai Tea Bag
Sustagen Hospital Formula Coffee 60g
Mentos Pure Fresh Spearmint Gum
Mentos Pure Fresh Fresh Mint Gum
Mentos Choco Caramel
Mentos Choco Mint
Chang's Oyster Sauce 50ml
Ocean Spray Craisins Recipe Card
HelloFresh $35 Gift Card
Frantelle Spring Water Insert
PLUS you get The Collective Voucher Book sponsored by Mrs Fields. Complete the 5 min survey and receive a voucher for a FREE Cookie and Coffee. The Collective Booklet has a total value of $275* – featuring offers from Birdsnest, Mon Purse, nude by nature, All Australian Beach Body, Fernwood Fitness, Live Love Nourish, Coast to Coast Australia and Sculptt.
Showbag Price: $16.00
Total Value: $402.00
*Note - Please note our showbags are available at the Royal Shows. Contents may vary. Vouchers may require a minimum spend.

Sign up to our emails for access to prizes, insider tips and exclusive access to Showbag must-know news.
Follow us for access to exclusive offers, competitions and behind the scenes access to the wonderful world of Showbags.