THE AUSTRALIAN WOMENS WEEKLY SHOWBAG | EKKA 2018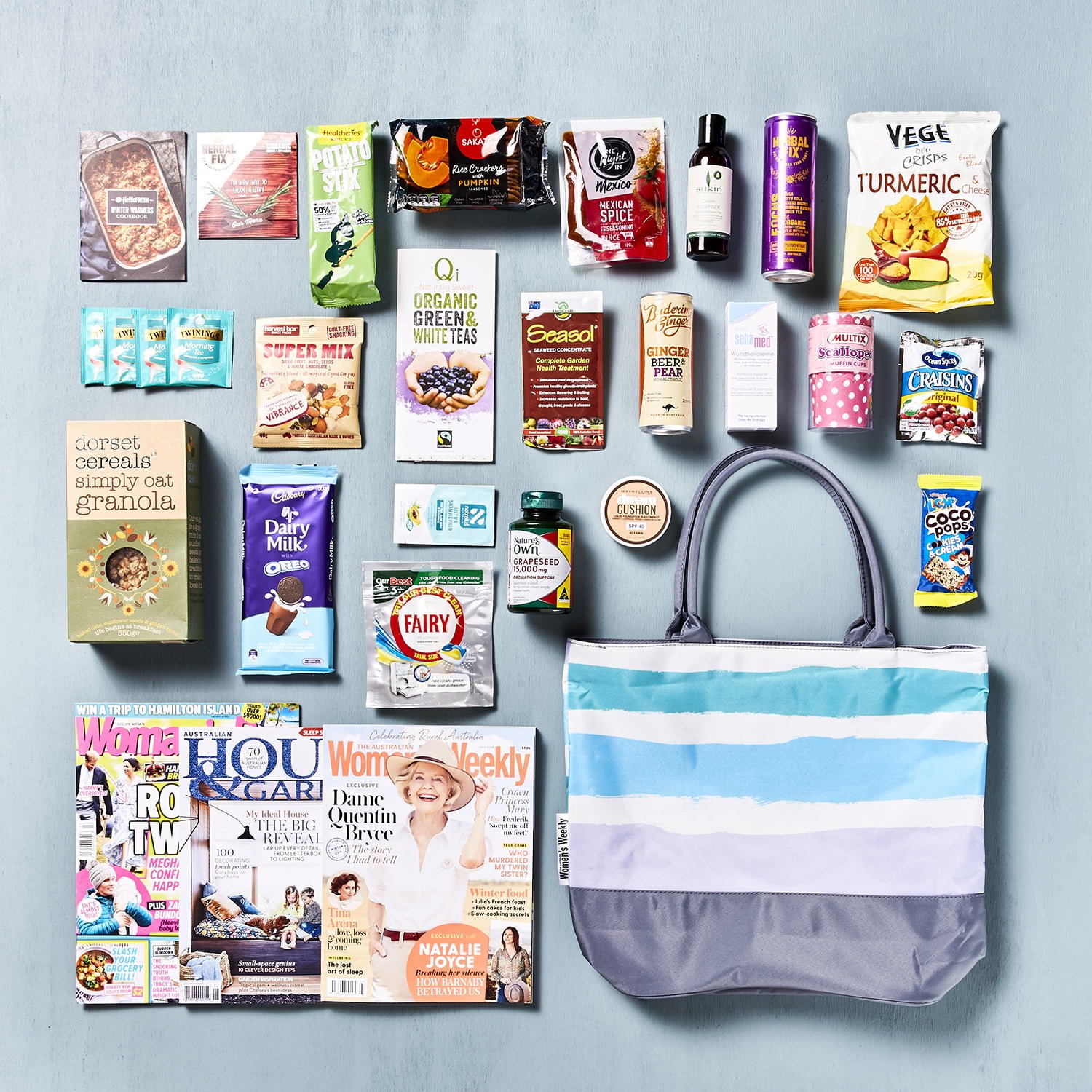 Brought to you by Australia's most iconic and trusted woman's magazine; The Australian Women's Weekly Showbag is one of our classics. Choc full of the best women's mags and a selection of food, household and beauty samples, the AWW Showbag is amazing value!
Showbag Contents:
Australian Women's Weekly Tote Bag
Australian Women's Weekly (Current Issue)
House & Garden (Current Issue)
Woman's Day (Current Issue)
Sukin Cream Cleanser 125ml
Maybelline Dream Cushion Foundation
Nature's Own Grapeseed 15000mg ~ 180 tablets
Natralus Essential Beauty Pack
Sebamed Baby Diaper Cream 10ml
Turmeric Vege Chips 20g
Multix Scalloped Muffin Cups 12 pack
Ocean Spray Craisins 32g
KONG Clicks Dog Toy
Herbal Fix
Harvest Box Snack Pack 45g
Buderim Ginger Beer & Pear 250ml
Cadbury Dairy Milk with Oreo Mint 180g Block
One Night in Mexico - Mexican Spice Seasoning 120g
LCMs Coco Pops Cookies & Cream Bar 22g
Dorset Cereals Simply Oat Granola 550g
Healtheries Potato Stix Sour Cream & Chives
Sakata Rice Crackers with Pumpkin 50g
Qi Tea Detox, Wellness and Relax
Seasol Sachet 45ml
Twinings Morning Tea
Hello Fresh Winter Warmers Cookbook & Offer
Showbag Price: $18
Total Value: $252
*Note - Please note our showbags are available at the Royal Shows. Contents may vary. Vouchers may require a minimum spend.

Sign up to our emails for access to prizes, insider tips and exclusive access to Showbag must-know news.
GET A LITTLE SOCIAL
Follow us for access to exclusive offers, competitions and behind the scenes access to the wonderful world of Showbags.