AUSTRALIAN WOMEN'S WEEKLY SHOWBAG | MELBOURNE SHOW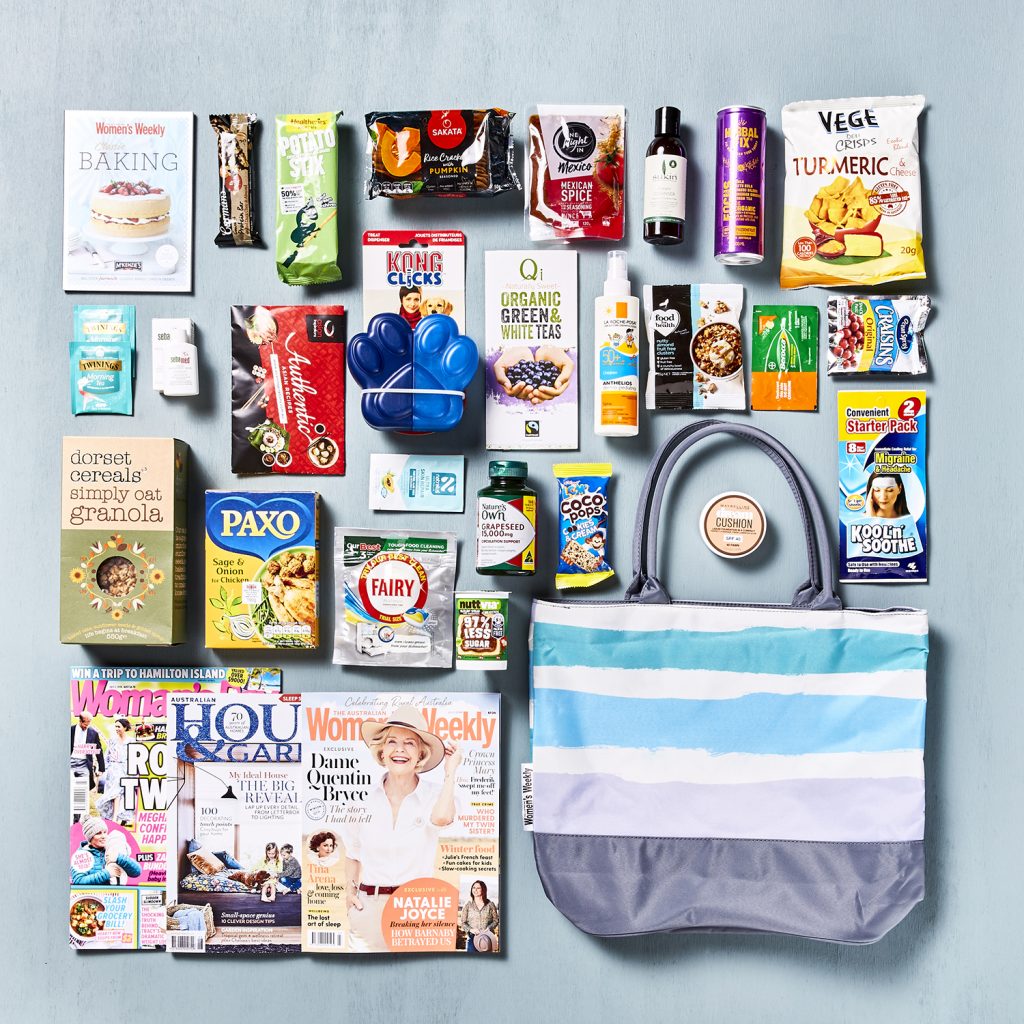 Save
Save
*Note - Please note our showbags are available at the Royal Shows. Contents may vary. Vouchers may require a minimum spend.

Brought to you by Australia's most iconic woman's magazine; The Australian Women's Weekly Showbag is one of our longest running and most popular showbags. You get 4 of the best women's mags alongside a selection of food, household and beauty samples, the AWW Showbag is the best value at the show.
Showbag Contents:
Australian Women's Weekly Tote Bag
Australian Women's Weekly (Current Issue)
House & Garden (Current Issue)
Woman's Day (Current Issue)
Sukin Cream Cleanser 125ml
Maybelline Dream Cushion Foundation
La Roche-Posay Children's Sunscreen Spray 200ml SPF50+
Nature's Own Grapeseed 15000mg ~ 180 tablets
Natralus Essential Beauty Pack
Sebamed Liquid Face and Body Wash 20ml or Body Wash Olive 20ml
Turmeric Vege Chips 20g
Ocean Spray Craisins 32g
Herbal Fix
40 page Australian Women's Weekly Classic Baking Book
Carman's Gourmet Protein Bar Salted Dark Choc & Almond
LCMs Coco Pops Cookies & Cream bar 22g
Dorset Cereals Simply Oat Granola 550g
Healtheries Potato Stix Sour Cream & Chives x 1
Sakata Rice Crackers with Pumpkin 50g
Paxo Sage & Onion Stuffing Mix 190g
Sanitarium UP&GO blends Mango + Coconut 250ml
Qi Tea Detox, Wellness and Relax Samples
Kool'n'Soothe Migraine Single Pack
Nuttvia Hazelnut Spread Snack Pack 48g
Food for Health Nutty Almond Fruit Free Clusters 35g
Twinings Morning Tea
LKK Panda Oyster Sauce Sachet 45g
Hello Fresh Voucher
Colgate Nature's Extracts Lemon & Aloe Vera Toothpaste 18g
Showbag Price: $18
Total Value: $262
Sign up to our emails for access to prizes, insider tips and exclusive access to Showbag must-know news.
GET A LITTLE SOCIAL
Follow us for access to exclusive offers, competitions and behind the scenes access to the wonderful world of Showbags.