AUSTRALIAN WOMEN'S WEEKLY SHOWBAG | MELBOURNE SHOW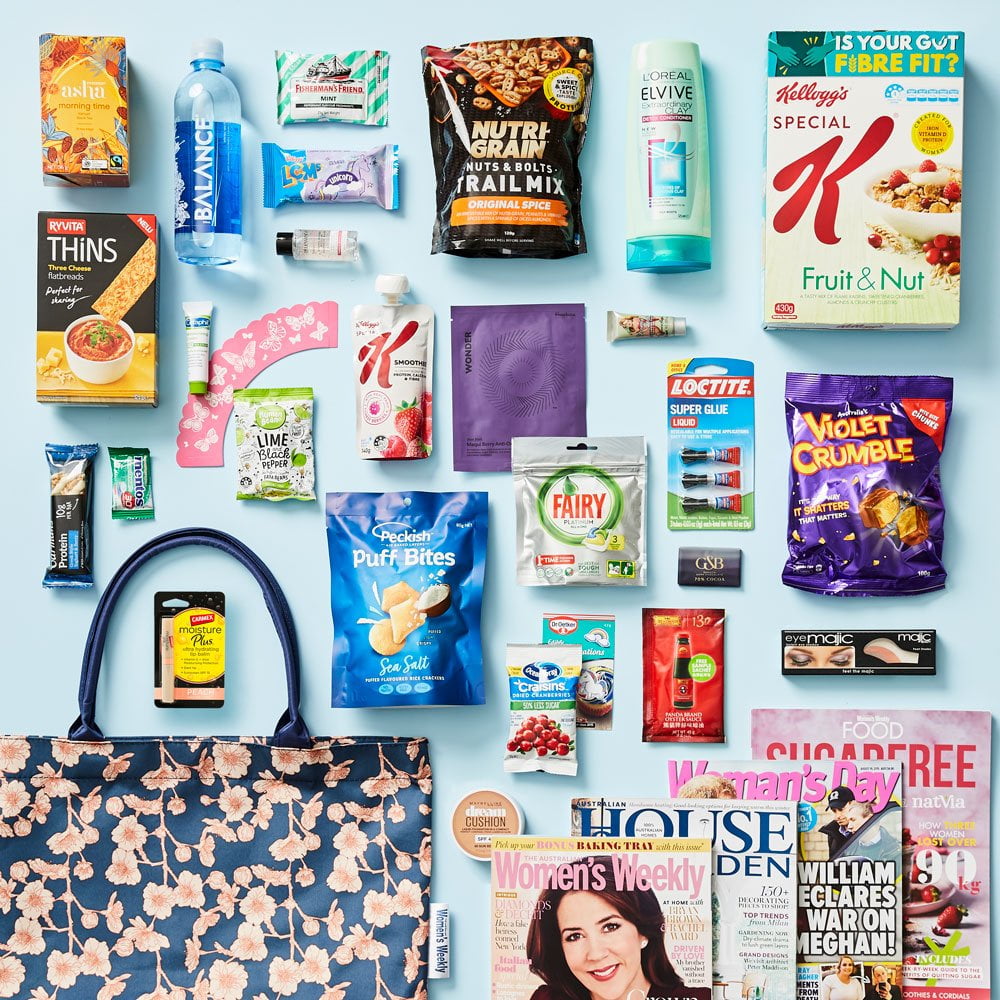 *Note - Please note our showbags are available at the Royal Shows. Contents may vary. Vouchers may require a minimum spend.

Brought to you by Australia's most iconic woman's magazine; The Australian Women's Weekly Showbag is one of our longest running and most popular showbags at the Royal Melbourne Show. You get 3 of the best women's mags alongside a selection of food, household and beauty samples, the AWW Showbag is the best value at the show.
Showbag Contents:
Australian Women's Weekly Tote Bag
Australian Women's Weekly (Current Issue)
Woman's Day (Current Issue)
Australian House and Garden (Current Issue)
Maybelline Dream Cushion Foundation
L'Oreal Elvive Detox Conditioner 250ml
EyeMajic Instant Eye Shadow
Haruharu WONDER Maqui Berry Anti-Oxidant Sheet Mask & flyer
Carmex Moisture Plus
Cetaphil Moisturising Cream 10g Tube
Glamourflage Dreamy Annie Cleansing Foam 10ml
Dr. Lewinn's Private Formula Vitamin Infused Micellar Cleansing Water 30ml
Carman's Gourmet Protein Bar
Balance Water 500ml
Ocean Spray Reduced Sugar Craisins 30g
Ryvita Thins Flatbread 125g
Vetta High Fibre Penne Pasta 500g
Special K Smoothie 140g
Cupcake Savvy Wrappers
Australia's Violet Crumble 100g
Human Bean Co. Faba Beans 20g
Dr Oetker Edible Wafer Creations
Fisherman's Friend 99% Sugar Free Mint Flavour Freshmints 25g
Nutri-Grain Nuts & Bolts Trail Mix
Special K Fruit & Nut 430g
Twinings Asha Morning Time Tea
LCM's Unicorn Bar 132g
Loctite Super Glue 3pack
Peckish Puff Bites 80g
Mentos Clean Breath 3 Pieces
Fairy Platinum All in One Dishwashing Tablets
LKK Panda Oyster Sauce
Green & Black's Smooth Dark Chocolate 10g
Hello Fresh Voucher

Showbag Price: $18
Total Value: $218
Sign up to our emails for access to prizes, insider tips and exclusive access to Showbag must-know news.
Follow us for access to exclusive offers, competitions and behind the scenes access to the wonderful world of Showbags.