Better Homes and Gardens Showbag Adelaide 2021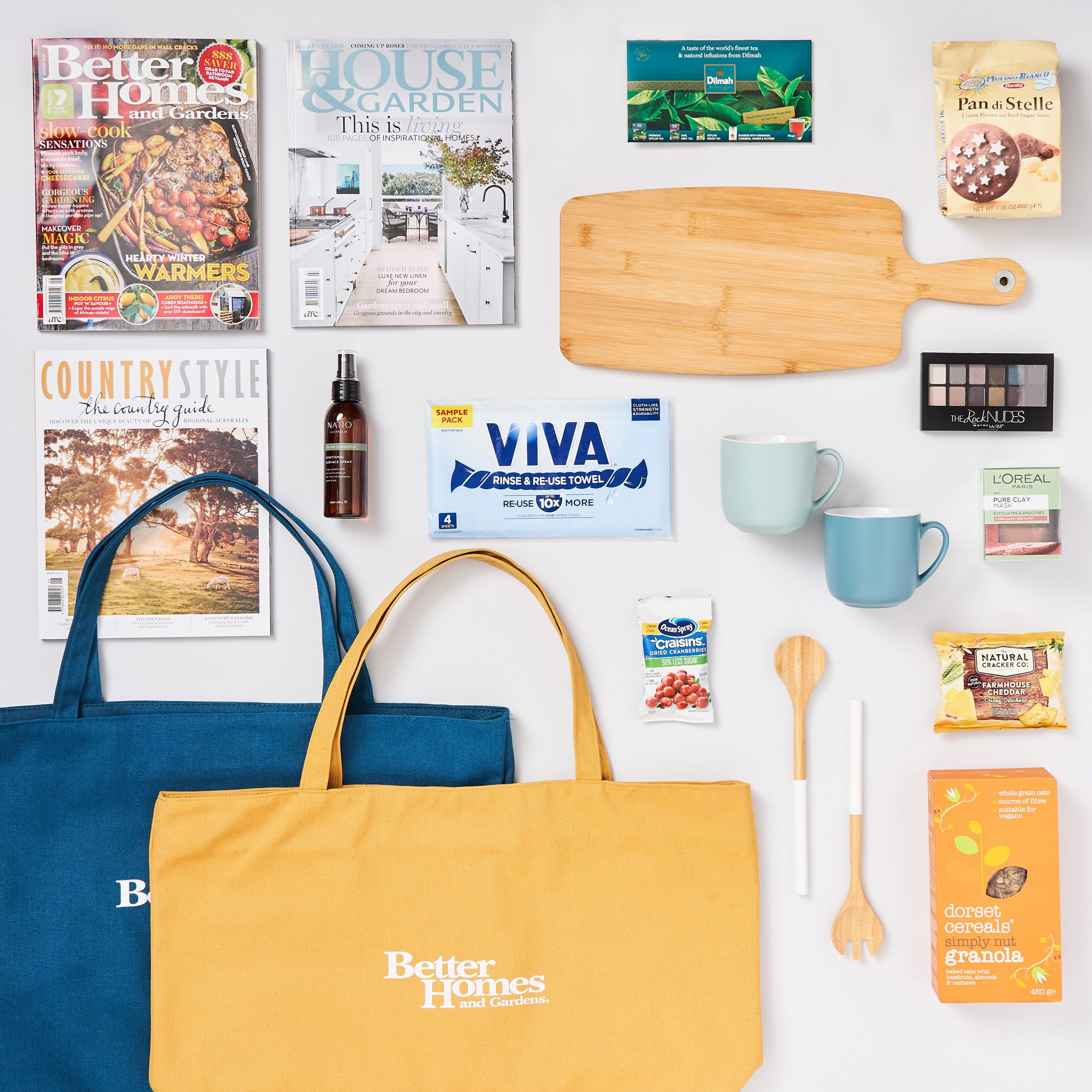 Showbag Contents:
Better Homes and Gardens Canvas Tote Bag (Choose colour)
Better Homes and Gardens Bamboo Salad Servers
Better Homes and Gardens Bamboo Serving Board OR Ocean Blue Mug Set (Choose one)
Better Homes and Gardens Magazine (Current issue)
House and Garden magazine (Current issue)
Country Style Magazine (Current issue)
L'Oreal Paris Pure Clay Mask - 3 Pure Clays + Red Algae 50ml
Maybelline The Rock Nudes 10g
Mulino Bianco Pan di Stelle Biscuits 200g
KIND Nut Bar 40g
Natio Tea Tree & Eucalyptus Surface Spray 125ml
Dorset Nut Granola 450g
Craisins Dried Cranberries 50% Less Sugar 30g
VIVA Rinse and Re-use Towel 4 Pack
The Natural Cracker Co, Farmhouse Cheddar Crispy Crackers 20g
Dilmah 4 Teabag Sampler
Plus complete our online survey to receive a Free Coffee & Cookie vouchers from Mrs. Fields
Showbag Price: $28
Total Retail Value: $166.44
*Note - Please note our showbags are available at the Royal Shows. Contents may vary. Vouchers may require a minimum spend. To view our showbags available to purchase online visit www.showbagshop.com.au.

Sign up to our emails for access to prizes, insider tips and exclusive access to Showbag must-know news.
Follow us for access to exclusive offers, competitions and behind the scenes access to the wonderful world of Showbags.