COSMOPOLITAN X MINKPINK SHOWBAG | PERTH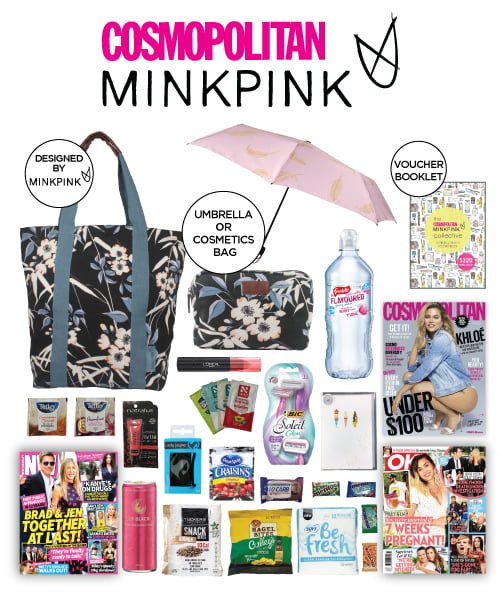 The showbag to be obsessed with. Cosmopolitan Magazine has joined forces with the babe's at MINKPINK to create a doubly-fabulous Showbag: Cosmopolitan X MINKPINK. You'll get the best fashion mags, beauty samples alongside a tote bag and accessories designed by MINKPINK. As if you wouldn't!
Showbag Contents:
MINKPINK Canvas Tote Bag
MINKPINK Canvas Cosmetics Bag OR MINKPINK Umbrella
Cosmpolitan (Current Issue)
NW Magazine
OK! Magazine
BIC Soleil Glow Razor
L'Oreal Paris Infallible Sexy Balm
Natralus 10g Nourishing Paw Paw Lip Butter
SOFY BeFresh Regular Wings
Natralus Sachet Beauty Pack
Ocean Spray Craisins
Frantelle Spring Water with a hint of Berry Essence
28 Black Pink Grapefruit Mint
Lady Jayne Snagless Thick Elastics  10 Pack
Hallmark Studio Range Card
Aussie Bodies Lo Carb Whip'd Protein Bar 30g
Tucker's Natural Snack Bites Quinoa 25g
Abe's Bagel Crisps 25g
Tetley Passionfruit Teabag
Tetley Cinnamon Orange Teabag
Mentos Pure Fresh Spearmint Gum
Mentos Pure Fresh Mint Gum
Mentos Choco Caramel
Mentos Choco Mint
PLUS you get The Cosmo Collective Voucher Book sponsored by SHOWPO. Complete the 5 min survey and get 20% off @ showpo.com.au
The Collective features offers from Mon Purse, nude by nature, Lilya, Sculptt, Fernwood Fitness, Essentials-in-a-box, Mrs Fields, Live Love Nourish, All Australian Beach Body, Nikki Williams, Faceshades and Coast to Coast. Total Value $391.
Showbag Price: $25
Total value: $527.00
*Note - Please note our showbags are available at the Royal Shows. Contents may vary. Vouchers may require a minimum spend.

Sign up to our emails for access to prizes, insider tips and exclusive access to Showbag must-know news.
Follow us for access to exclusive offers, competitions and behind the scenes access to the wonderful world of Showbags.