ELLE SHOWBAG | ADELAIDE SHOW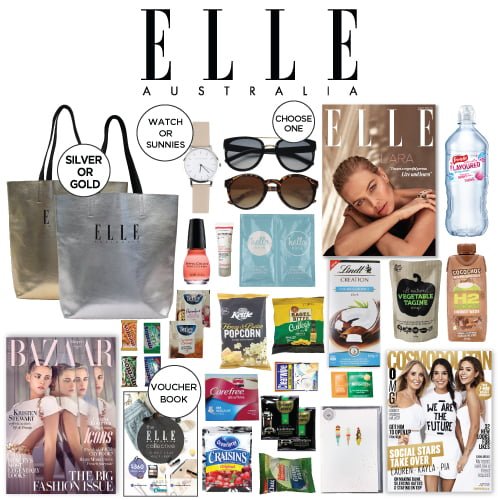 Save
Save
Introducing... the ELLE Showbag, brought to you by the world's biggest selling fashion mag.
Showbag Contents:
ELLE Australia Metallic Tote (Choose colour)
ELLE Australia Sunglasses (Choose style) or The Emporium Watch
ELLE Australia (Current Issue)
Harpers Bazaar (Current Issue)
Cosmopolitan (Current Issue)
Revlon SinfulColours Nail Polish
Hello Hair Hydrating Shampoo & Conditioner Duo Sachet
Galderama Nutraplus Barrier Hand Cream 10ml
Ocean Spray Craisins
Clearwipes 10 Pack
Frantelle Spring Water with a Hint of Berry Essence 750ml
H2Coco CocoChoc 330ml
Lindt Creation Luscious Coconut Block 100g
Hallmark Studio Range Card
Hart & Soul Vegetable Tagine Soup 400g
Kettle Popcorn Honey & Butter 25g
Carefree Ultra Thins Regular
Clorox Magic Eraser
Berocca Performance Single Tablet
Abe's Bagel Crisps 15g
Robert Timms Coffee Bag 2 Pack
Tetley Passionfruit Teabag
Tetley Cinnamon Orange Teabag
Mentos Pure Fresh Spearmint Gum
Mentos Pure Fresh Fresh Mint Gum
Mentos Choco Caramel
Mentos Choco Mint
Ocean Spray Craisins Recipe Card
HelloFresh $35 Gift Card
Frantelle Spring Water Insert
PLUS you get The Elle Collective Voucher Book sponsored by Coast to Coast Australian Natural Skincare. Complete the 5 min survey and get $20 off @coasttocoastaustralia.com.au
The Collective features offers from Sculptt, Fernwood Fitness, Live Love Nourish, Lilya, All Australian Beach Body, nude by nature, Mon Purse, The Academy Brand, Garbo & Kelly, Paula's Choice, Faceshades and The Iconic.
Showbag Price: $25.00
Total Value: $524.00
*Note - Please note our showbags are available at the Royal Shows. Contents may vary. Vouchers may require a minimum spend.

Sign up to our emails for access to prizes, insider tips and exclusive access to Showbag must-know news.
Follow us for access to exclusive offers, competitions and behind the scenes access to the wonderful world of Showbags.