Marie Claire Showbag Adelaide 2021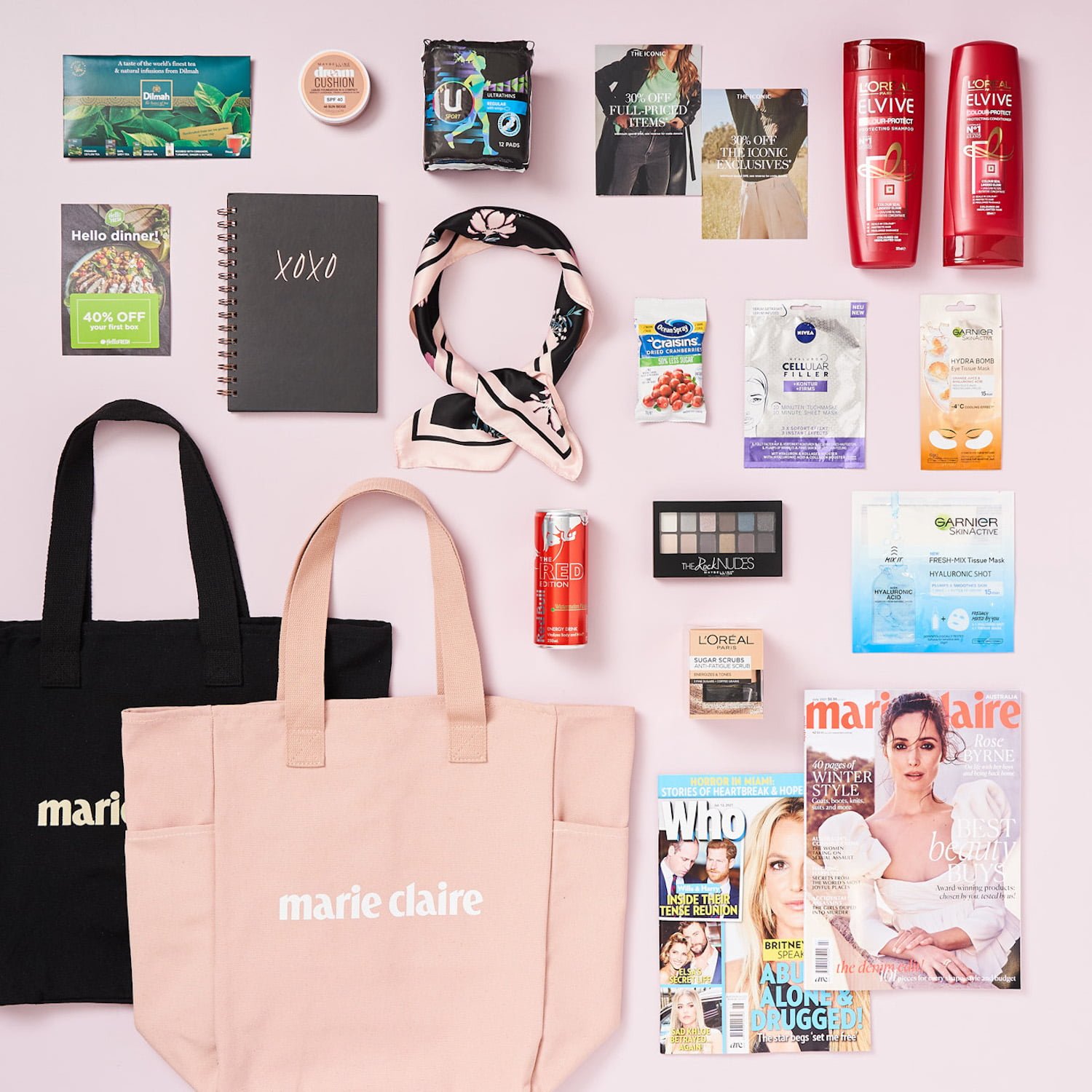 Showbag Contents:
Marie Claire Notebook or Silk Look Scarf
Marie Claire Canvas Tote Bag (Choose colour)
Marie Claire Magazine (Current issue)
WHO Magazine (Current issue)
Maybelline Dream Cushion Foundation SPF20
Garnier Fresh-Mix Tissue Mask Hyaluronic Shot 33g
L'Oreal Paris Sugar Scrub Anti Fatigue Scrub 3 Fine Sugars + Coffee Grains 50ml
Garnier Skinactive Hydrabomb Eye Tissue Mask
L'Oreal Paris Elvive Extraordinary Shampoo 325g
L'Oreal Paris Elvive Conditioner 325ml
Maybelline The Rock Nudes 10g
Nivea Hyaluron Cellular Filler 10min Sheet Mask
Red Bull Editions, Red or Tropical 250ml
U by Kotex Sport Ultrathins Regular with Wings 12 Pads
Kind Nut Bar 40g
Craisins Dried Cranberrries 50% Less Sugar 30g
Dilmah 4 Teabag Sampler
Hello Fresh Voucher
The Iconic Voucher
Plus complete our online survey to receive a free voucher from The Iconic
Showbag Price: $25
Total Retail Value: $282.43
*Note - Please note our showbags are available at the Royal Shows. Contents may vary. Vouchers may require a minimum spend. To view our showbags available to purchase online visit www.showbagshop.com.au.

Sign up to our emails for access to prizes, insider tips and exclusive access to Showbag must-know news.
Follow us for access to exclusive offers, competitions and behind the scenes access to the wonderful world of Showbags.