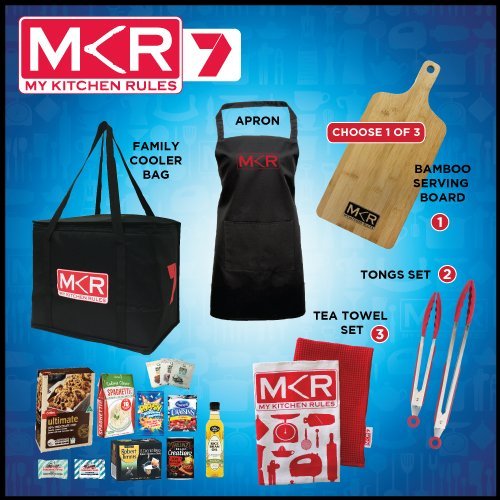 Save
Save
Save
Save
Showbag Contents:
MKR Cooler Bag
MKR Apron
Choose 1 of 3: MKR Cheeseboard, MKR Tea Towel Set, MKR Tong Set
Ocean Spray Craisins
Coles Ultimate Choc Chip Cookies
D'Lite Food Slendier Spaghetti 400g
Fisherman's Friend Spearmint 25g
Fisherman's Friend Mint 25g
Heinz Beanz Creationz Fiery Mexican 420g
Robert Timms Coffee Bags Box
Greens Poppin Microwave Popcorn 25g
Qi Tea Wellness, Detox & Relax Tea Samples
Alpha One Rice Bran Oil 100ml
Ocean Spray Craisins Recipe Card
+More!
Showbag Price: $20
Total Retail Value: From $111
*Note - Please note our showbags are available at the Royal Shows. Contents may vary. Vouchers may require a minimum spend.

Sign up to our emails for access to prizes, insider tips and exclusive access to Showbag must-know news.
Follow us for access to exclusive offers, competitions and behind the scenes access to the wonderful world of Showbags.