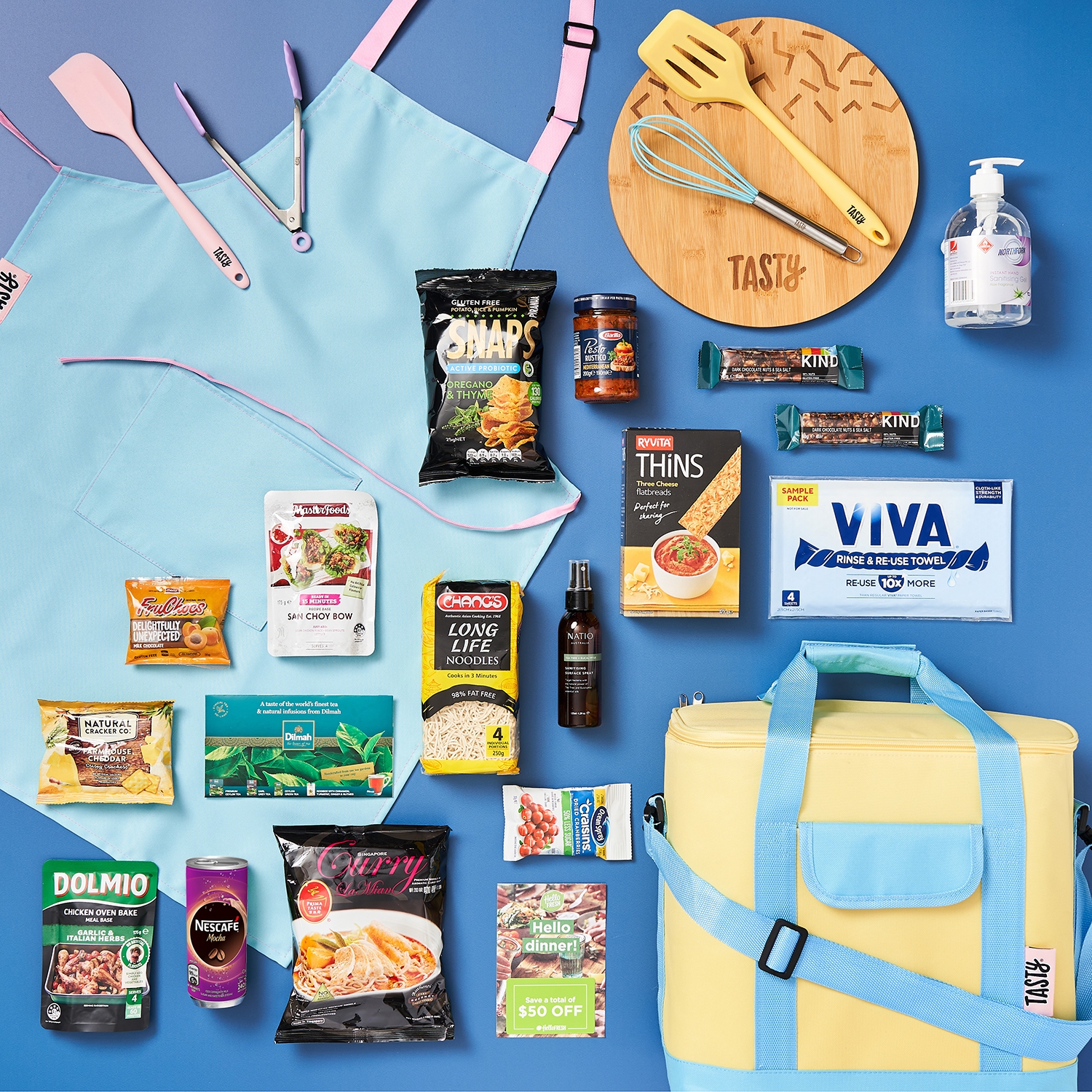 Showbag Contents:
Tasty Picnic Cooler Bag
Tasty Apron OR Serving Board (Choose one)
Tasty Silicone Cooking Utensils (Set of 4)
KIND Nut Bar 40g x2
Northfork Hand Sanitising Gel Aloe Vera Fragrance 500ml
DOLMIO® Oven Bake 175g
Changs Long Life Noodles 250g
Natio Tea Tree & Eucalyptus Surface Spray 125ml
Masterfoods Ready in 15 Minutes San Choy Bow Recipe Base 175g
Ryvita Thins Three Cheese Flatbreads 125g
Prima Taste Singapore Curry La Mian 178g
Piranha Snaps Gluten Free Active Probiotic Chips 25g
Nescafe Mocha 250ml Can
FruChocs Milk Chocolate 35g
Craisins Dried Cranberrries 50% Less Sugar 30g
Barilla Pesto Rustico 200g
VIVA Rinse and Re-use Towel 4 Pack
The Natural Cracker Co, Farmhouse Cheddar Crispy Crackers 20g
Dilmah 4 Teabag Sampler
Eyesential Under Eye Enhancer 1ml
Hello Fresh Voucher
Showbag Price: $30.00
Total Retail Value: $174.19
*Note - Please note our showbags are available at the Royal Shows. Contents may vary. Vouchers may require a minimum spend. To view our showbags available to purchase online visit www.showbagshop.com.au.

Sign up to our emails for access to prizes, insider tips and exclusive access to Showbag must-know news.
Follow us for access to exclusive offers, competitions and behind the scenes access to the wonderful world of Showbags.