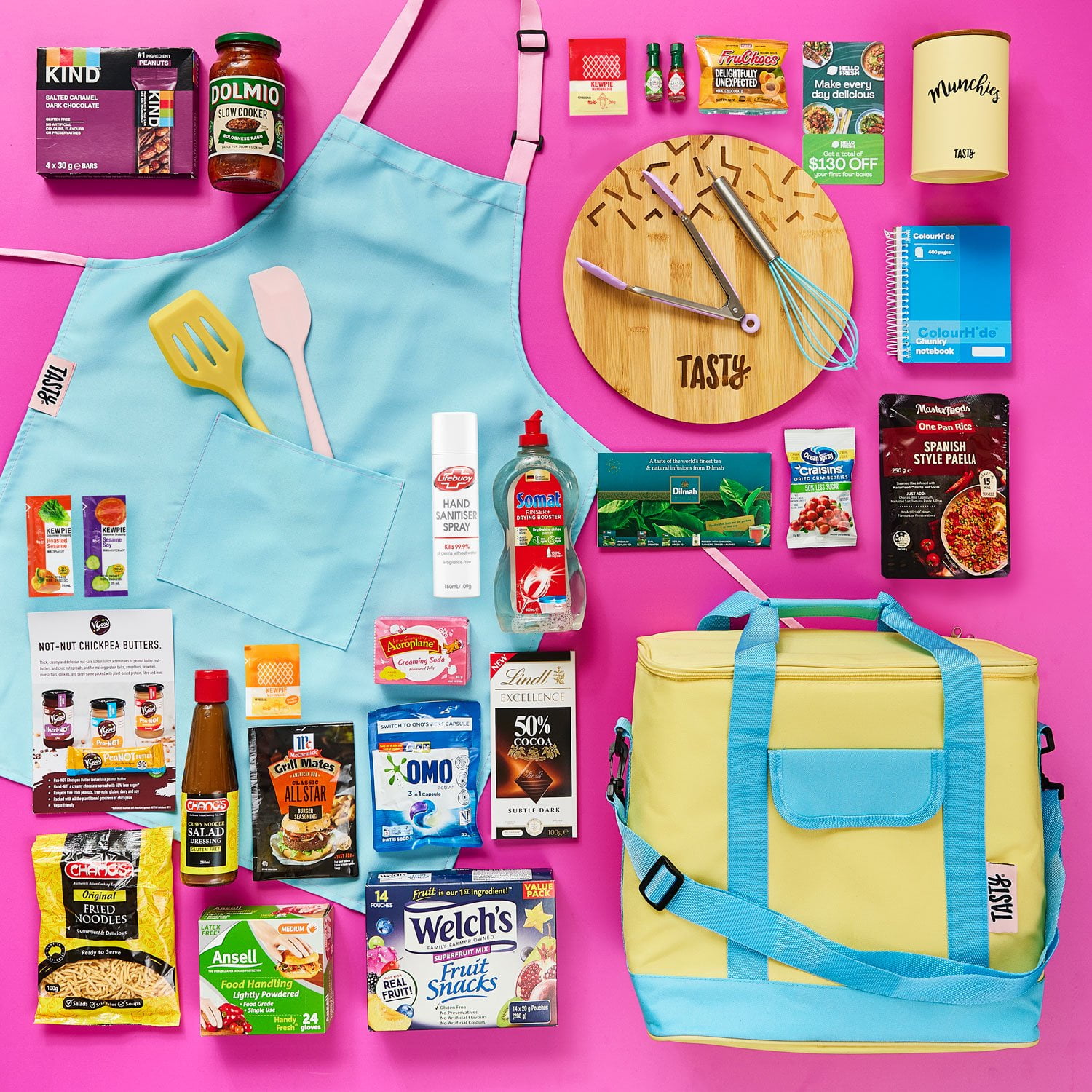 Showbag Contents:
Tasty Picnic Cooler Bag
Tasty Apron OR Serving Board (Choose one)
Tasty Kitchen Tin with Bamboo Lid OR Silcone Cooking Utensils (Set of 4) (Choose one)
FruChocs 35g
Ocean Spray Craisins Dried Cranberries 50% less Sugar 30g
Welch's Fruit Snacks Superfruit Mix
CHANG'S Original Fried Noodles 100g
CHANG'S Crispy Noodle Salad Dressing 280g
ColourHide Chunky 400pg Notebook
DOLMIO Slow Cook Bolognese Ragu 500g
Ansell Handy Fresh Disposable Gloves 24 pack
Somat Rinser & Drying Booster 500ml
MasterFoods One Pan Rice Paella 250g
Lindt Excellence 50% Cocoa Block 100g
KIND BARS 4 x 30g pack
Lifebuoy Hand Sanitiser Spray 150ml
Dilmah Teas Sample pack
TABASCO® Red Sauce 3.7mL
TABASCO® Green Sauce 3.7mL
Omo 3-in-1 Active Capsules Samples
PeaNOT Sample
Kewpie Sesame + Sesame Soy 25ml
Kewpie Original + Sriracha 20g
Aeroplane Original Creaming Soda Flavoured Jelly 85g
McCormick Grill Mates Classic All Star Seasoning 40g
Hello Fresh Voucher - Up to $130 Off Your First 6 Boxes
Showbag Price: $30.00
Total Retail Value: $289.78
*Note - Please note our showbags are available at the Royal Shows. Contents may vary. Vouchers may require a minimum spend. To view our showbags available to purchase online visit www.showbagshop.com.au.

Sign up to our emails for access to prizes, insider tips and exclusive access to Showbag must-know news.
Follow us for access to exclusive offers, competitions and behind the scenes access to the wonderful world of Showbags.